In today's world, first impressions are very important. Whether you're meeting a new part of the family for the first time this holiday season, or you're having an interview with your new employer, the way someone views you could make or break the situation. One of the most attractive as well as pleasing feature of a first impression is a bright and beautiful smile. Good teeth are a general sign of good health and therefore are generally the key to making a good first impression without saying very much at all! However, if you feel like your smile is not up to par, it can easily be noticed that you are uncomfortable, and make a less positive first impression. That's why there's Galliano Dentistry in Baton Rouge, and with their helpful staff as well as services, you can have that big and beautiful smile you've always wanted for the holidays!  No matter if you're looking for dental repair for functional issues, relieving physical pain, or if you simply feel like it will help you feel more confident, you can be sure that Galliano Dentistry is the clinic for you! For superior Baton Rouge dentistry, contact Dr. Galliano and his team of professionals today.
What Does Galliano Family Dentistry Do?

Just like most decisions, when you have a lot of options, you have more of a chance of getting what you need or want much quicker. That's why the staff at Galliano Dentistry in Baton Rouge offers a variety of dental procedures that can fix anything from a chipped tooth to an actual jaw problem. Dr. Galliano himself has already helped thousands of smiles in the Baton Rouge area due to his professional experience and artistic eye. Dr. Galliano and his team make it a point to provide the highest quality materials with their clients as well as paying close attention to detail. In order to get the best knowledge of what dental procedure you may need from their practice, Dr. Galliano and/or his professional and friendly staff will start with a thorough and comprehensive clinical exam to learn more about your mouth. Galliano Dentistry in Baton Rouge can provide new and updated digital X-Rays to get a better look of what can be done to give you the smile you desire. For those clients who are interested in simple routine maintenance of their teeth are suggested to get a dental cleaning every 6 months, which happens to be one of the premier services offered at Galliano Dentistry in Baton Rouge. Other services done by Galliano Dentistry include crowns, bridges, and root canals.
Smile Enhancers and Protectors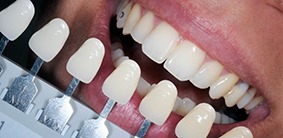 While the procedures mentioned above are the most common, there are also other procedures that can be done to simply improve the look of your smile overall. For example, if you believe your smile shows too much of your gums, Galliano Dentistry in Baton Rouge can provide a very simple as well as painless gum lift to reveal a brighter smile. For those who have kids participating in rough sports, strong and tough athletic guards can be crafted to give your children a safe but comfortable mouth. With Dr. Galliano Baton Rouge dentist, your kids' teeth will be able to withstand anything.
The Baton Rouge Dentist for You

If you're self-conscious about your smile, make an appointment with Galliano Dentistry in Baton Rouge! No matter what you desire to be done, you can rest assured that Galliano Dentistry in Baton Rouge can provide it to you and more! To meet the Galliano Dentistry staff in person, you can stop by 2915 Sherwood Forest Boulevard, Baton Rouge, LA and be greeted with courteous and professional service. The team that knows their way around a mouth better than any other can be reached by phone at (225)296-0212. Don't hesitate for your Baton Rouge dentist! Go see Galliano Family Dentistry for all your dental needs!