If you are looking to make some improvements on the appearance of your teeth, the team at Galliano Family Dentistry is exactly what you have been hoping to find. There is vast expertise in numerous different cosmetic dentistry procedures. Whether it is whitening, veneers, implants or Clear Connect braces, whatever you want done to create a brighter smile can happen.
What cosmetic procedures are available at Galliano Family Dentistry?
The Galliano Dentistry team has strong expertise in cosmetic dentistry. They know how important and life changing it is to gain a brighter, more youthful smile. Not only will it change how your teeth look, but these procedures will extend so much farther into your life. With a smile you are proud of, you will see your confidence soar. It can change your entire life and leave you smiling with pride. Veneers are one cosmetic procedure that Galliano Dentistry offers. A veneer is a thing, porcelain layer that goes on top of the visible part of your tooth. They are expertly designed to match your other teeth and look natural in your smile. They can go over chipped teeth or stains that will not go away with bleaching. If you have a deformity of your tooth or a gap, these can also cover all of those issues. It is with an artistic and well experienced eye that your veneers will be crafted, giving you the corrected smile that you have dreamed of.
Another option that could be great for you is Clear Connect. These are invisible braces that can straighten your teeth. Some benefits to this system are that they are clear, so no one will notice that you are working on your teeth throughout the process. This is a huge upgrade from the metal that was standard before. The Clear Connect system can also be removed when you are eating, which means you will not have to deal with food getting stuck or having to expertly brush between a semi-permanent fixture. Not only that, but Clear Connect is a company out of Round Rock, TX, so you know that the Made in the USA quality in addition to the guidance from the team at Galliano will have you set and ready for a more aligned set of teeth.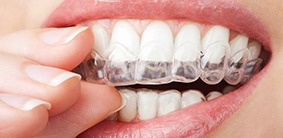 There are also whitening options available if it is the yellowing of your teeth that is really bothering you. Zoom! Whitening is the process of getting brighter teeth in just one hour. It uses a new bleaching technique that brightens your smile up to two shades in the first application. There are so many different whitening options on the market today, but they trick you into thinking if you do it longer and longer then it will finally start working. That is why Zoom! Whitening is wildly reviewed – you know that it works right away. The process uses a laser to activate peroxide on your teeth, which oxidizes stains. If instead of whitening you are looking for a dental implant, that is something else that the dentists at Galliano Family Dentistry can do. An implant can fix any problems with broken, missing or failing teeth so you will be back to having the smile you want. You are sure to have a comfortable fit that shows off your new and improved natural looking smile.
What is it like getting cosmetic work done at Galliano Dentistry?
The one thing that will have you coming back to Galliano for all of your dental needs are how comfortable you feel in the office and how high the quality of work is. From the moment you walk in and are signing in for your appointment in the waiting room to the moment you walk out of the door, you will be surrounded by staff members who are ready to help you with anything that you need. So many of the patients at Galliano's office found their way to this practice because of good referrals from others. Contact our team to schedule your appointment today!