In our current times, we strive for perfection in our lives. We continually work towards this goal, but many of our goals fall short. However, with modern orthodontics including traditional braces, clear braces, retainers, and palatial expanders, those looking for the perfect smile can almost achieve that goal. However, the previously mentioned methods can only come so close. To get the perfect, radiant smile, some individuals should opt for teeth bonding in Baton Rouge. The most affordable and reliable teeth bonding in Baton Rouge can be found at Galliano Family Dentistry! Get the healthy, happy smile you deserve today.
What is Teeth Bonding?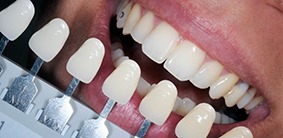 For any small imperfections, this cosmetic bonding process can provide a great solution that lasts for up to 10 years. The process puts a layer over resin over your selected tooth to help make it appear to be a full and healthy tooth. The process takes only a short thirty to sixty minutes per tooth, and requires no prior work. To ensure the tooth is exactly how you want it, your teeth are compared to a color wheel with every imaginable shade of tooth color. After the resin has been set with an ultraviolet light, the doctor may sculpt and carve the resin to allow for exact crafting of how the tooth should look in your personal opinion.
More than Just Teeth Bonding in Baton Rouge
In addition to teeth bonding in Baton Rouge, Galliano Family Dentistry offers a wide array of tremendous services. With general dentistry, Galliano has been able to complete thousands of smiles for residents in the greater Baton Rouge area. With veneers, patients have been able to add porcelain bits to help the smile appear as natural and healthy as possible. For broken or missing teeth, the dental implants provide a great option to replace those as well. Our Zoom whitening services allow you to achieve a brighter smile that will light up a room by improving the shade by 2 grades. For any and all dental needs, Galliano Family Dentistry has the team to fix dental problems ranging from the most minor to to the most complex of issues.
Have your Bonding Completed

With the affordable pricing and expert team at Galliano Family dentistry, teeth bonding in Baton Rouge is a breeze. Allow our team to help you fit your cosmetic desires so you can enter the world with a confidence due to your perfect and beautiful thousand watt smile. Galliano Family Dentristy is located at 2915 Sherwood Forest Blvd. Baton Rouge, LA 70816. The contact number is 225-296-0212 and the office is open from 7:30AM-5PM Monday through Thursday and by appointment on Friday. Come see us today and walk out with the smile you've always dreamed of having.