At Galliano Dentistry, you can expect professional as well as friendly treatment that will help you get a healthy and happy smile that you can feel confident about. Dr. Galliano as well as his hardworking team at Galliano Family Dentistry in Baton Rouge, LA have worked on many people and are familiar with all of the common problems a mouth could have, especially when it comes to having a nasty cavity. Galliano Family Dentistry makes sure to provide residents of Baton Rouge as well as the surrounding areas with a wide variety of dental procedures and services for the whole family, and one of their more popular services for oral health is a root canal. While many people fear the ever-daunting root canal, Dr. Galliano and his team make it a point to give you nothing to fear when you need one. There is no better dentist team to handle the job of a root canal in Baton Rouge than Galliano Family Dentistry. Dr. Galliano and his team of knowledgeable and experienced experts value all of their patients highly, and therefore aim to provide patients with unparalleled service throughout every step of the root canal process. Heal your smile today with the help of a root canal by Galliano Family Dentistry in Baton Rouge, LA.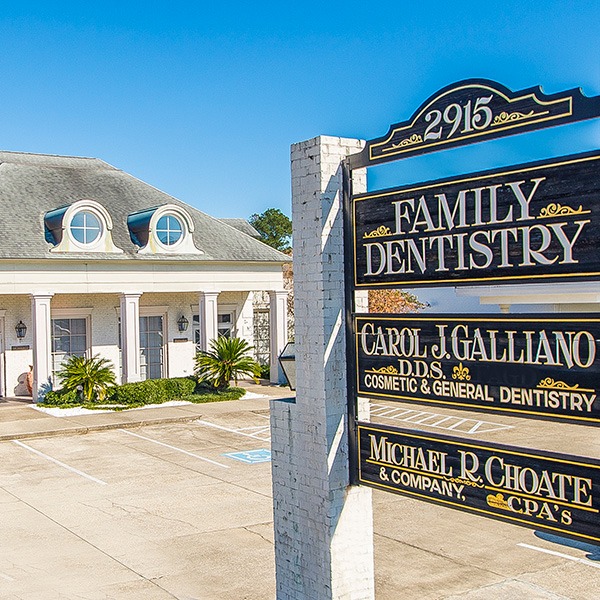 Why A Root Canal?
Cavities are no laughing matter and can cause some serious oral health issues. When you have a cavity, this means that the natural acid in plaque has eroded the hard part of your tooth (the enamel) and has created a tiny hole within the tooth. If the cavity isn't filled quickly enough, bacteria can get inside and begin hurting you when it reaches the nerve in your tooth. This is when a root canal procedure is required. If the root canal is not performed, the infection will stay in the patient's bloodstream and can lead to major complications, even death in more serious cases. So don't wait until that point! Contact Smiles by Galliano in Baton Rouge today and make an appointment for your procedure! While most people fear the root canal procedure because of pain, Dr. Galliano and his team provide patients with root canal therapy that is painless and can provide you with immediate relief from an infected cavity. So if you have a cavity that has become infected with big nasty bacteria, don't suffer through it! Contact Galliano Family Dentistry in Baton Rouge and schedule a root canal as soon as possible!
Contact Galliano Family Dentistry in Baton Rouge For Root Canal Services and More
Pain in the mouth and teeth can be unbearable, but with Galliano Family Dentistry, it doesn't have to be that way! If you are in need of a root canal or require another kind of general or even cosmetic dentistry procedure, look no further than Dr. Galliano and his knowledgeable as well as professional team at Galliano Family Dentistry in Baton Rouge! Dr. Carol Galliano has been proudly practicing dentistry for 33 years, 26 of those years devoted to working in the Greater Baton Rouge area. Galliano Family Dentistry provides their trustworthy services to both adults and children across Baton Rouge. If you need a root canal in Baton Rouge, look no further than the trusted team at Galliano Family Dentistry! Give them a call today or visit their convenient website to find out more about the many services offered to you at Smiles by Galliano!