If you are in the Baton Rouge area and want the look and feel of a natural smile, an appointment with Galliano Family Dentistry to see about porcelain veneers is a great idea. The dentists are experienced in this procedure and have increased confidence for many clients giving them brighter, happier smiles.
How Do Porcelain Veneers Work?
To understand a veneer, you can think of it as a thin shell that is designed to fit over your tooth and change its appearance. Each veneer is custom made, so the shape, color, and length will all be custom fit to what you are looking for. The dentists at Galliano Dentistry use a veneer technique called Elite Porcelain Restoration. A mix of porcelain layers are varying opacities are combined to make a natural-looking smile. Not only will they look natural, but they will have a very natural feeling in your mouth as well.
These veneers cover the entire tooth, so can handle various circumstances, including stained teeth, gaps between teeth, and even crooked teeth. With a procedure like this, you want someone who pays attention to the details. After making an impression on your teeth, you will receive temporary veneers for two weeks. With these, adjustments are able to be made to ensure you are getting the end result that you are looking for. During your next appointment, your permanent veneers will be cemented onto your existing teeth.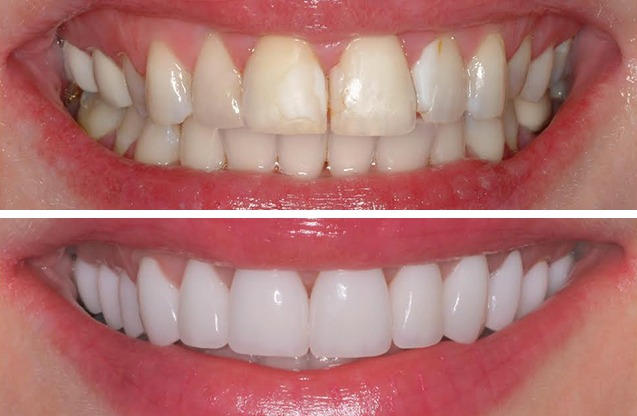 What is the Galliano Family Dentistry Team Like?
The team at Galliano Family Dentistry is excited to welcome you and your family into the office. Every effort is made to keep you comfortable, even from the inviting decor the moment you walk in. Clear communication is always prioritized. You will know exactly what you are going to get before it happens, thanks to the proper preparation and education that the team provides. With little details like this, it is clear to see why people return over and over again for all of their dental health needs. If veneers sound like the right option for you, let the dentists at Galliano Dentistry get you on your way to a brighter smile.
Whether it is for you or another member of your family, now is a great time to get the process started. Additionally, if veneers are the reason you come in, you can continue to receive this high-quality care with regularly scheduled appointments for you and your entire family. Reach out today and schedule an appointment.