Porcelain veneers may sound intimidating at first, but Galliano Family Dentistry has the experience and technology to make sure all of your needs and wants are well taken care of. There are a variety of difference reasons that porcelain veneers might be the ideal fit as an addition to your smile, so coming into the office for a consultation is a great start to get you the smile you deserve.
Why do people want porcelain veneers?
Porcelain veneers are something that you have probably heard of, but might not necessarily know the explanation for. They are often a great option to safely cover up an issue you are having with your smile without having to go in for a more serious surgery to correct the problem. If you have discolored teeth or they have been stained for some reason, porcelain could be the greatest option to cover it with. You may have gaps in your teeth that need to be fixed, in which case a veneer could close that gap. Some of the imperfections in your mouth may come from teeth being crooked or uneven or you may have a chip that you want to have fixed once and for all. When you use porcelain to fix any of these issues, not only will have you have a bright, presentable smile again, but it will look natural. Going to a dentist that has experience in this procedure lets you rest knowing that they can use different opacities of porcelain to match the bright smile you already have. The replacement or add on will not be too bright or too dark, so it will go right along with what your mouth already has going on.
The procedure is not the most simple thing, so it might be nice to have a bit of an explanation as to what porcelain veneers actually are. They are custom shells that cover the problem area of your teeth. These shells are extremely thin and sit on top of the tooth. They are placed to change the color or shape of the tooth. Not only do they immediately impact the problem, but they continue to resist stains once they are placed. This make porcelain a better option than resin veneers. It is usually a three step procedure. First you will need to come into Galliano Family Dentistry for a consultation. Once it is decided that porcelain veneers are in fact what you need, you will need to go back to make and apply them. You can rest assured that the latest technology is being used in the making and placing of your new porcelain veneers.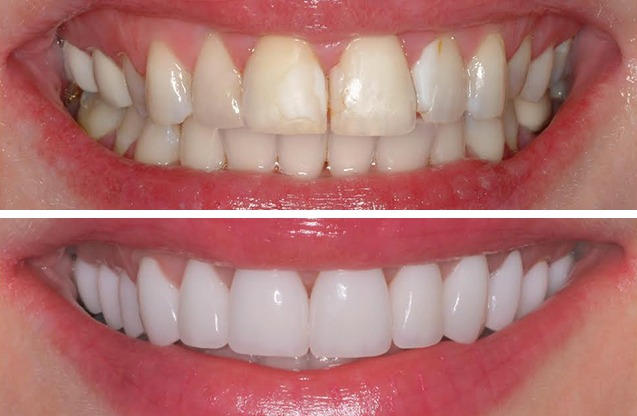 During your consultation, you can ask all of the important questions that you have come up with. It is not rare to have gone to the internet to see all of the different possibilities, but it will not be until you are actually in the office that you will be able to settle into a real understanding.
Have Confidence in Choosing Galliano Family Dentistry for Porcelain Veneers
The experience that is held by the team at Galliano Family Dentistry will blow you away. Not only are they experts in porcelain, but are confident in keeping you comfortable from the time you walk in until the time you walk out. Everything from the state of the waiting room to the vast education that is held by each individual you meet there will have you feeling confident and secure. In addition, your confidence will skyrocket once the procedure is done. It is going to be no surprise when you find yourself suggesting the work of Dr. Galliano and his team to everyone you know. Of course you will be able to talk about the high quality porcelain work, but additionally there will be the understanding that you were in good hands the entire time.